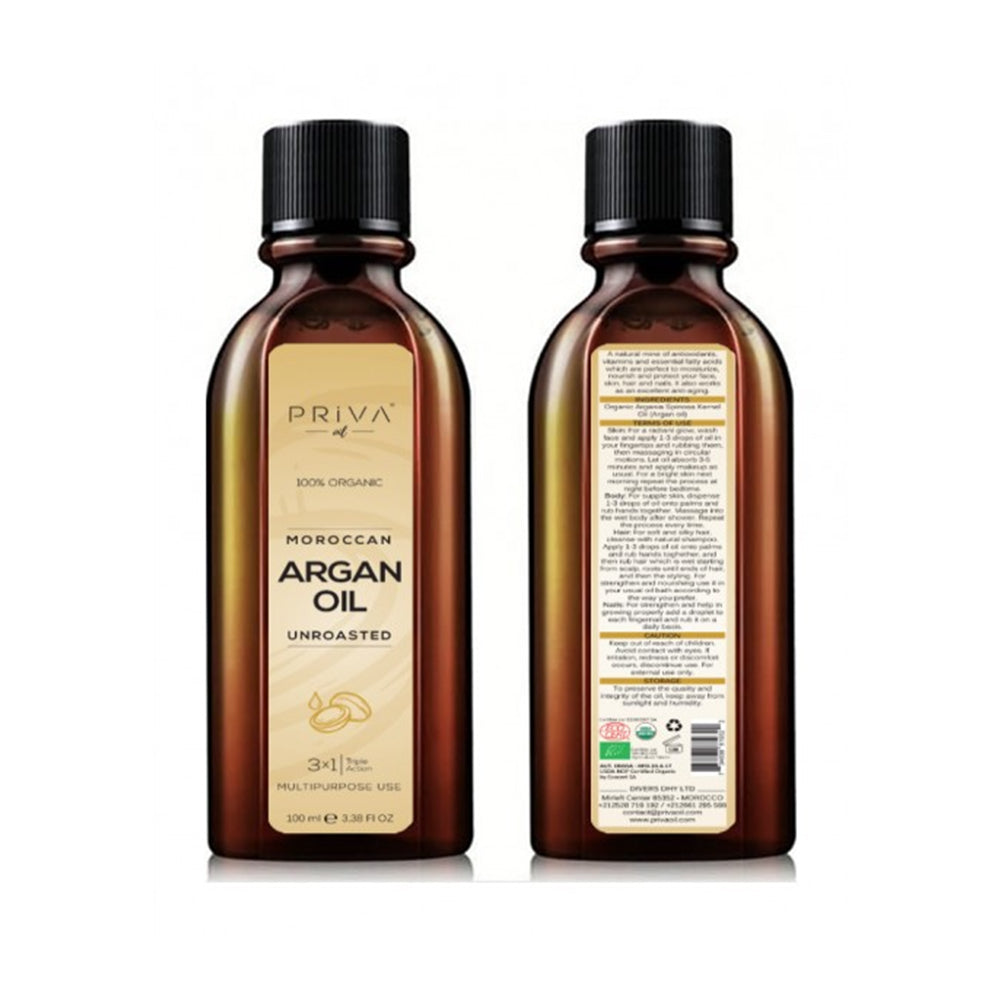 PrivaOil® Organic Moroccan Argan Oil
Sale price
$38.32
Regular price
$46.45
Priva Organic Moroccan Argan Oil (1oz) Usda Certified 100% Pure Cold Press Virgin Premium Grade Moisturizer Treatment for Dry & Damaged Skin, Hair, Face, Body, Scalp & Nails (3,38 fl Oz - 100 ml)
Priva Oil's argan oil is a precious beauty oil that has always been made and used by Berber women for its various and exceptional cosmetic properties. This oil comes from the kernels of the argan tree also called "arganons", it is rich in essential fatty acids but also in natural antioxidants.

 Priva Oil's argan vegetable oil is one of the best anti-aging care, real natural anti-wrinkle, it can slow skin aging, tone, and regenerate the skin. To appreciate this treasure of nature, just put a few drops on your face whether you have wrinkles, very little or not at all, it will make your skin more supple, more elastic, and especially softer. It can also effectively reduce redness, chapping, stretch marks, scars (burns, acne, chickenpox), small imperfections such as small pimples.
 For the body, it is also possible to apply it a few times a week on clean skin. For example, it is ideal after a good scrub with black soap, nothing better to obtain a beautiful skin, supple, soft, and firm in a few gestures. Argan vegetable oil also strengthens and beautifies brittle nails but also hair. The argan vegetable oil also brings a protective effect and prevents the appearance of split ends.
 Priva Oil's argan oil is a 100% natural and pure beauty oil that you can easily incorporate in your daily care routine.
Estimated Delivery:Dec 20 - Dec 24

Free Shipping & Returns: On all orders over $200
PrivaOil® Organic Moroccan Argan Oil
Sale price
$38.32
Regular price
$46.45