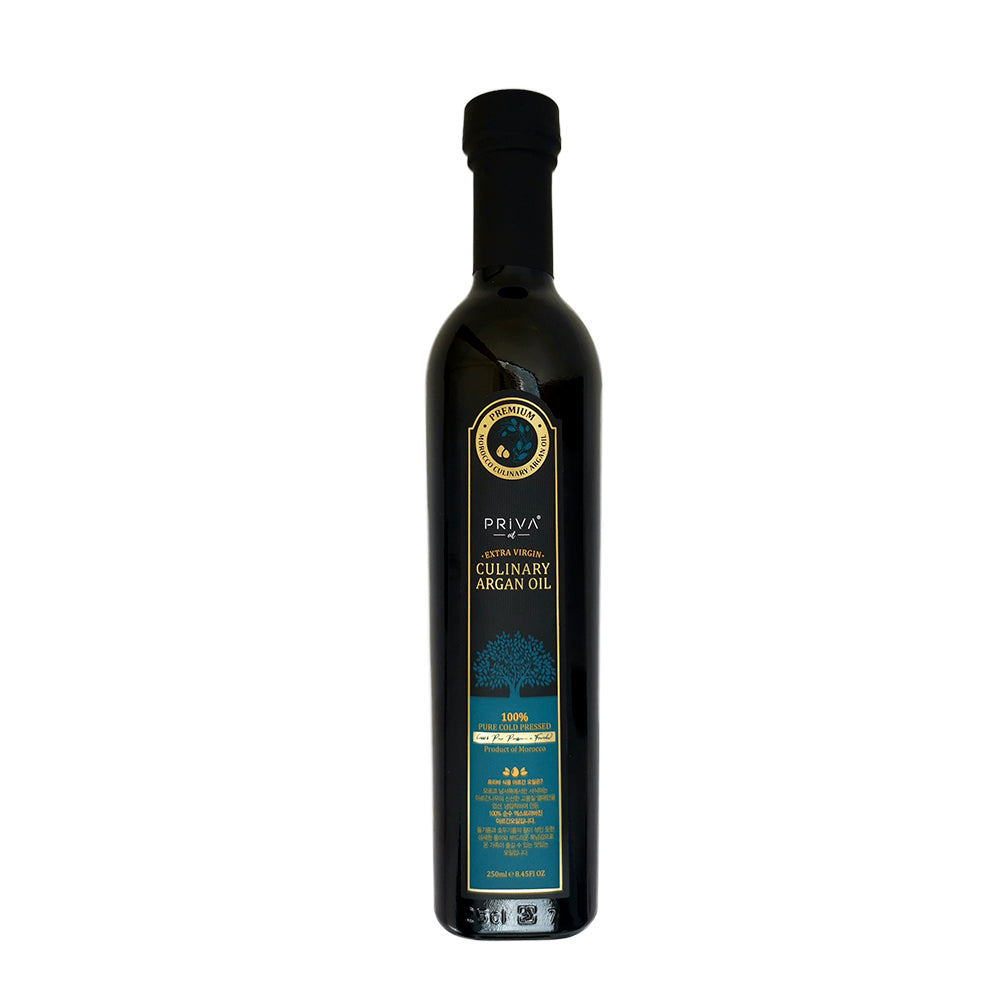 PrivaOil® Premium Gastronomy Culinary Argan Oil 100% Pure & Organic
Sale price
$79.55
Regular price
PRIVA Premium Gastronomy Culinary Argan Oil 100% Pure & Organic
The argan tree (arganiaspinoza) is a tree endemic to southern Morocco that produces a fruit containing almonds that are lightly roasted and then pressed to extract argan oil food, a highly nutritious oil, rich in vitamins A and E and anti-oxidant virtues.
 Used for centuries by the Berbers of the Atlas Mountains for its culinary, therapeutic, and cosmetic properties, argan oil comes from the argan tree, a thousand-year-old tree that grows mainly in the arid areas of south-west Morocco.
 In the Berber tradition, this oil is eaten plain with bread, it is used in the composition of seasonings and in the preparation of choice dishes, salads, tajines, couscous, tomatoes, and roasted peppers, etc.
 It is considered the noblest of table oils by refined gourmets who have adopted it for its light hazelnut taste and incomparable smoothness.
 Priva Premium Gastronomy Culinary Argan Oil 100% Pure & Organic helps reduce blood cholesterol levels and is an excellent substitute for vegetable oils less beneficial to health. With its taste close to that of hazelnuts, it is a perfect accompaniment to salads and subtly season certain hot dishes.
 Edible Argan oil is known for its nutritional and dietary properties. It would fight against obesity, has beneficial effects on the liver, and is rich in anti-carcinogenic elements.
 While edible argan oil is gradually being introduced into the fusion cuisine of major international restaurants, bringing a subtle oriental and exotic touch to the preparations, local Berber populations continue to use it today to season eggs, couscous, and tajines, prepare Amlou (a spread made from roasted almonds, honey, and argan oil) or simply serve it to their guests with honey, mint tea, and traditional bread freshly baked.
Estimated Delivery:Oct 11 - Oct 15

Free Shipping & Returns: On all orders over $200